What It's Like To Be A Teacher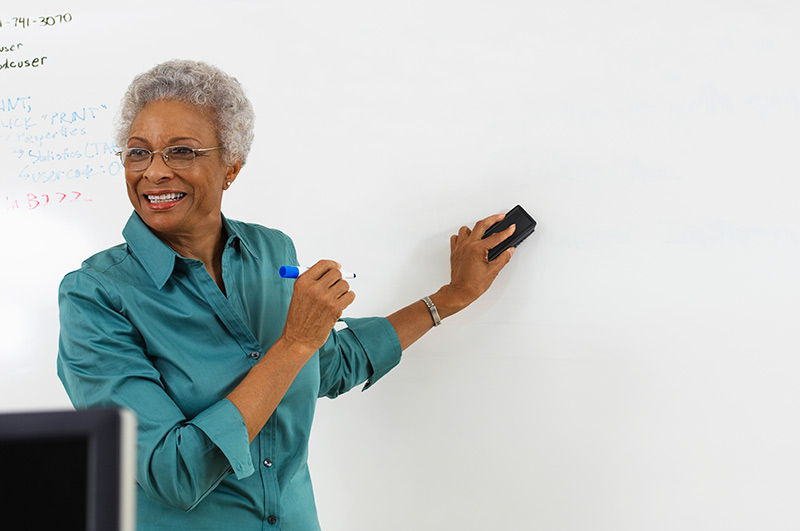 Most of us think we know what being a teacher is like, granted that we were a student at some point in our lives. Hanging out with vibrant, young kids every day, an easy 8:00 am to 3:00 pm schedule, and summers off. Right? Those facts are, for the most part, all accurate. But the truth is, there are many concerning aspects of being a teacher that are often left in the dark.
Whether you are a current student in teacher's college, an individual who is thinking about becoming a teacher, or simply just curious, there are many things you should know about the status of teachers today. We think it's important for us to teach you one or two things about what it's like to be a teacher in today's workforce.
Teachers spend roughly eight hours a day with their students. That's a lot of time for guidance, influence and, well, teaching. In those eight hours, teachers can get to know their students very well. And year after year, they can even start to see trends amongst the educational system. Think about it…when you spend that much time with students, it's natural and inevitable to really start to know them, besides their grades and potential. You start to recognize outside factors that affect their capability, or even unique behavioural aspects. Yet, when it comes to big decisions and the future for our nation's educational system, teachers rarely have a say – even though they are the ones who experience the education environment first hand.
Right now in the U.S, the system does not allow for teachers to be a main part of the educational decision making process. There is a bureaucracy of red tape, guidelines, and managing the changing and often conflicting directives of principals, school boards, and parent-teacher associations. America's schools are being crushed under decades of legislative and union mandates. They can never succeed until we cast off the bureaucracy and unleash individual inspiration and willpower. (Check out these 75 examples of how bureaucracy stands in the way of America's students and teachers!)
All in all, teachers should be free to follow their instincts. And there is a slight glimpse of hope. Data-Driven Decision Making (DDDM) in education refers to teachers, principals, and administrators systematically collecting and analyzing various types of data, including input, process, outcome and satisfaction data, to guide a range of decisions to help improve the success of students and schools.
Let's talk about public vs. private schools for just a moment. 9% of school-age children attend private schools, and nearly 3% are homeschooled. Public school curricula, funding, teaching, employment, and other policies are set through locally elected school boards, who have jurisdiction over individual school districts. Private schools are generally free to determine their own curriculum and staffing policies, with voluntary accreditation available through independent regional accreditation authorities. Therefore, it's clear that children who attend private schools have more resources towards succeeding in their educational careers. This imbalance is problematic, since 88% of children attend public schools – the majority of our future. Aforementioned, the public school system is where the change needs to happen. Teachers need to recognize student needs and have the power to do something to change it.
Finally, it's crucial for us to defend teachers and speak out about the compensation they receive, or lack there of. The estimated average yearly salary for a teacher in the U.S is $49,000. Think that's too much? Well think again because that's not even for the full year. Most teachers are paid on a nine or 10 month salary. That is, they are not paid for summers. Many schools spread out the 10 month salary over 12 months so that teachers don't forgo paychecks in summer, but don't some don't. That means that some teachers work in different jobs over the summer.
Regardless, being a teacher is an extremely rewarding profession, no doubt. Teachers play a vital role in our nation's educational system. They are responsible for the development of our youth, and thus, the future of our society. And they're doing something right! The U.S still remains the top country in literacy scores, according to Randstad USA. But there is always room for improvement, on both sides of the system. Improving education in America will ensure a brighter tomorrow for future generations. And the first step to improving education is with providing teachers the right and deserving compensation, resources, credibility, and welcoming access to input on a grander scale. So what do you think? Will you be a part of this change? Will you become a teacher who changes the old ways and guide us into a brighter tomorrow?
References
http://www.randstadusa.com/workforce360/jobs-the-economy/education-the-right-answer-to-the-skills-gap/148/
http://www.huffingtonpost.com/randy-turner/a-warning-to-young-people_b_3033304.html
http://www.edudemic.com/hours-do-teachers-really-work/
http://gradschool.about.com/od/education/f/advteacher.htm
http://www.theatlantic.com/national/archive/2012/04/to-fix-americas-education-bureaucracy-we-need-to-destroy-it/255173/
http://www.broadeducation.org/about/bureaucracy.html